What A RUSH!
A quick review on Måneskin's newest album, RUSH!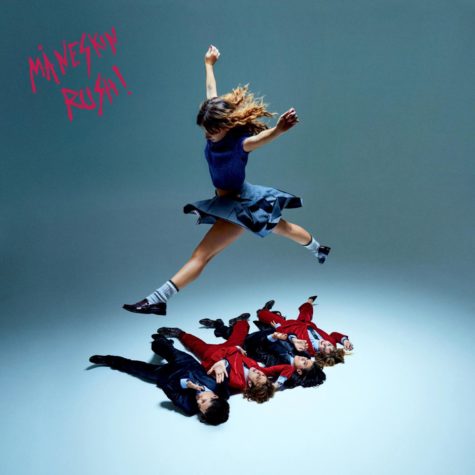 Måneskin's third studio album, RUSH!, is a seventeen song LP that came out on January 20, 2023. The band first struck stardom when they won Eurovision in 2021 with their song, "Zitti E Buoni" (meaning Shut Up and Sit Still.) Maneksin's songs range from ballads to rock, and they sound good in everything. With their heavy bass and fast paced guitar, their music is great to the ear. The songs that I liked the most were GOSSIP, GASOLINE, IL DONO DELLA VITA, LA FINE and THE LONELIEST.
"GOSSIP" (featuring Rage Against The Machine's Tom Morello), is about performance culture and perfectionism. "Welcome to the city of lies / Where everything's got a price / It's gonna be your new favorite place / You can be a movie star / And get everything you want / Just put some plastic on your face…"
"GASOLINE" is about the situation in Ukraine. The members of Måneskin have friends in Ukraine and so the Russo-Ukrainian war has been at the forefront of their minds.
"We've been writing a lot of music these past few months, so of course this whole f***ing insane situation with Ukraine really affected us," said vocalist Damiano David. You can really tell that the lyrics hold a lot of meaning based on how they are sung in a catchy yet angry way.
IL DONO DELLA VITA (meaning THE GIFT OF LIFE) is a joyful ballad about awareness of what you have and loving the small things (although it sounds sad when you don't understand the words). The flow is slow and passionate. You can tell that this song is held close to Måneskin's heart.
LA FINE (meaning THE END) is another one of the Italian songs on the album. I love the pace of the beat and how fast the lyrics are sung. LA FINE has to be one of my top favorite songs on the album. However, like IL DONO DELLA VITA, the tempo of the song can definitely fool someone not familiar with Italian. While the pace is fast and fun, the lyrics are sad and dejected. The chorus talks about wasting away in place or running away because "Even the prettiest rose has its thorns."
Finally, THE LONELIEST is "a cross between a love letter, a farewell, and a will," said Måneskin. I feel that it closed out the album on a strong, emotional note. The lyrics are ardent and painful.
Overall, I really liked the album. I didn't really dislike any songs; which is good. It is raw, emotional and every song has its own story. My only critique is that there isn't enough in Italian. While I love the songs in English, the ones in Italian are so heartfelt and honestly on a different level. I think that you will like RUSH! too if you like Ghost, Green Day, Red Hot Chili Peppers, Radiohead, Fulminacci and Marco Mengoni. I give it a 4.5 out of 5.
Leave a Comment